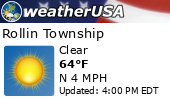 ---
ZONING/SITE REVIEW OFFICER: RICK ARNOLD
Phone: 517-547-7786
E-Mail:rollinzoning1@comcast.net
Hours: Monday and Wednesday: 8:00 a.m. - 10:00 a.m.
Saturdays 8:00 a.m. - 11:00
Phone:(517) 917-6801
Click here

for

Downloadable Permits, and other building information

.
---
JOB DESCRIPTION:
Uniformly enforces township zoning ordinances
Inspects sites for compliance with zoning ordinances not involving State Construction Code
Issues and serves appearance tickets for violation of township ordinances

---

*Source:
Bauckham, John; Authorities and Responsibilities of Michigan Township Officials, Boards & Commissions; Michigan Township Association, 2000; pgs. 85-87, 108
PULL DOWN MENUS NOT WORKING? In your browser, go to TOOLS>COMPATIBILITY VIEW and add this site.